Background
The REI Philosophy
The Rapid Empirical Innovation (REI) model testing process was developed by MSHIPCO, a California based naval architecture firm founded in 1988 by Chuck Robinson and Bill Burns. This open water hull testing process allows for testing and comparison of scale hull models at a fraction of the price of indoor tow tanks. The low cost and ease of use of the REI platform allows designers to rapidly modify their hull designs, leading to greater rewards in the form of potential technological breakthroughs. The philosophy behind the REI is that by sacrificing some of the high resolution accuracy of tow tanks, one can realize huge gains by exploring a greater number of new and radically different concepts in real time and in real world conditions. This rapid fire approach to ship design makes the REI perfect for the academic realm, where it will be used to test and develop exciting new ideas in marine technology.
How it Works
The REI uses a self-powered, open water tow testing platform to provide real-time force, trim, and acceleration measurements for hull models up to 1.5m long. The REI can accommodate two models in tandem, allowing for direct side-by-side comparison in identical wave conditions. This simultaneous testing capability allows one model to be used as a benchmark in order to assess hull form variants against tried and true industry standards. Each hull model can be equipped with high-frequency 6-DOF accelerometers which yield comprehensive motion and acceleration data.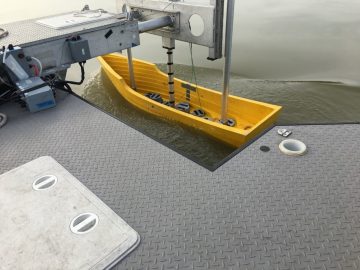 Prior to its arrival at UBC in 2017, the platform was used commercially by MSHIPCO. There, it was instrumental in the design of several successful technologies including a low wake passenger boat for use in the Canals of Venice, and a covert military operations vessel for the US Navy. Since acquiring it, the UBC Naval Architecture and Marine Engineering (NAME) program has begun the process of testing and validating the platform for rough and smooth water conditions on the Fraser River.